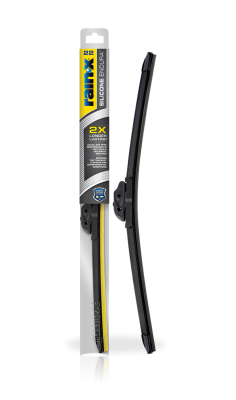 Rain-X® Silicone Endura® Premium Wiper Blade
Rain-X® Silicone Endura™ was designed with the wiper blade consumer in mind. Qualitative focus group research provided insights to the top features and benefits desired in a wiper blade; consumers want it to be durable and long-lasting while consistently performing in a variety of temperatures and environmental conditions. From the icy cold winters in the north to the year-round blazing heat of the south, the next step in the innovation process was to develop a wiper blade that met these specifications.
Rain-X, a brand leader in wiper blades and water repelling technologies, introduces the newest addition to the wiper blade portfolio. Rain-X® Silicone Endura™ features a precision engineered silicone rubber squeegee, with proprietary graphite coating, specially formulated for use in wiper blades to provide ultimate durability and extreme all-weather performance.
ALL-WEATHER PREMIUM SILICONE SQUEEGEE with CLIMATE DEFENSE TECHNOLOGY
Ultimate DURABILITY*
The Rain-X® Silicone Endura™ squeegee is proven to last 2X longer than traditional natural rubber squeegees, based on third-party testing. Designed to endure through the toughest conditions, the silicone squeegee maintains excellent stability and performance during long-term exposure to harsh climates and environmental elements. The silicone rubber is resistant to the motor oils, fluids and solvents encountered on the road that cause organic rubbers to rapidly deteriorate.
BUILT FOR TOUGH WEATHER CLIMATES
Rain-X® Silicone Endura™ provides superior wipe quality in the most extreme temperatures (tested to -20°F and +194°F). The squeegee won't dry out and crack in the summer heat, or freeze and break in the winter cold. The resilient silicone rubber is designed to provide exceptional wipe performance in all types of severe or inclement weather conditions experienced while driving, such as: heat, wind, rain, sleet, snow, and ice
Product Features
Precision Engineered Silicone Rubber Squeegee

Advanced Spring Beam Technology

Symmetrical Pyramid Shaped Spoiler for 3D air control system

Uniclick™ Adapter System

Last 2X Longer

Climate Defense® Technology

Built for Tough Weather Climates
Part #:
830126 - All-Weather Premium Wiper Blade 26"
830119 - All-Weather Premium Wiper Blade 19"